Welcome to Faith Lutheran Church! My name is Justin Panzer, and I am currently serving as the pastor of this congregation of saints. You are always invited to join us in worship.
I was ordained into the Office of the Holy Ministry on June 1, 2003 at Our Redeemer Lutheran Church in Kinsley, KS. I was installed as the pastor of Faith Lutheran Church in Abilene, KS on July 20, 2003.
If you have any questions about our church or the Lutheran Church-Missouri Synod, please do not hesitate to contact me at the church. The phone number is (785) 263-1842. Sunday Worship time is at 9am followed by Christian education classes for all ages at 10:15am.
God's blessings as you view our website!
Education Background:
Hutchinson Community College (Hutchinson, KS) - Associate of Arts (1994)
University of Kansas (Lawrence, KS) - Bachelor of Science in Education (1996)
Westfield House (Cambridge, England) - Seminary Exchange (1999-2000)
Concordia Seminary (St. Louis, MO) - Master of Divinity (2003)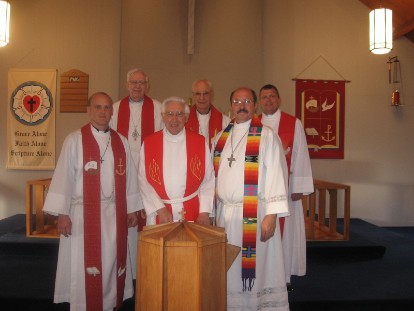 Pastors of Faith, Abilene attending the 60th Anniversary Worship on Sunday, October 31, 2010:
Back (L-R): Rev. Harold Kamman, Rev. Wally Friedrichs, Rev. Tim Kersten Front (L-R): Rev. Justin Panzer, Rev. Irvin Bruenjes, Rev. Gary Wolf